Andy Fairweather Low & The Low Riders
Andy Fairweather Low & The Low Riders &nbsp
Bahnhofstraße 41
32105
Bad Salzuflen
Event organiser: Daubel Events, Bahnhofstr. 41, 32105 Bad Salzuflen, Deutschland
Information on concessions
Karten für Rollstuhlfahrer sind direkt beim Veranstalter unter 05222/ 239 740 4 erhältlich.
Event info
Einer der vielen Stammgäste im Bahnhof Bad Salzuflen – Andy Fairweather Low. Wenn er in die Seiten greift, schweben Freunde guter, handgemachter Musik auf Wolke sieben. Andys Mix aus Blues, Country, Soul und Americana begeistert immer wieder aufs Neue. Sweet Soulful Music zum Wohlfühlen, Tanzen und Sich-treiben-lassen. Seit Anfang der Sechziger ist AFL auf den Bühnen und in den Studios dieser Welt zu Hause. Begonnen hat er als Frontman der 60s-Teenie-Band Amon Corner (If Paradise Is Half As Nice, Bend Me Shape Me etc.), um sich in den folgenden Jahrzehnten vornehmlich als Sideman der ganz großen Stars zu profilieren. Mit George Harrison, Bob Dylan, Jimi Hendrix, David Crosby, The Band, Elton John, Roger Waters, Dave Gilmour, The Who, BB King, Joe Cocker, Steve Winwood, Linda Ronstadt, Emmylou Harris, Joe Satriani, Jeff Beck, Mary J. Blige, Georgie Fame, Bonnie Raitt, Otis Rush, Van Morrison, Chris Barber, Jackson Browne, Bill Wyman, Sheryl Crow und Pete Townshend hat Andy Fairweather Low bereits zusammengearbeitet. Und tatsächlich ließe sich diese Liste noch viel weiter fortsetzen. Besonders sein gemeinsames Wirken mit Eric Clapton setzt bis heute Maßstäbe. Dem preisgekrönten MTV Unplugged Konzert von Mr. Slowhand drückte auch Andy seinen Stempel auf.
Location
Bahnhof Bad Salzuflen
Bahnhofstraße 41
32105 Bad Salzuflen
Germany
Plan route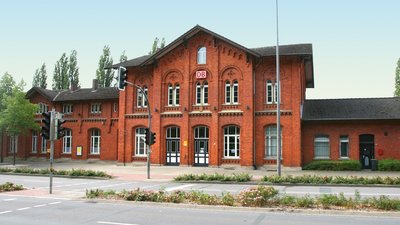 Künstler aus der ganzen Welt geben sich im Bahnhof Bad Salzuflen die Klinke in die Hand und machen die Location zu einer der Beliebtesten im nordrhein-westfälischen Heilbad Bad Salzuflen. Seit 2008 haben hier bereits mehr als 100 kulturelle Events stattgefunden, die ein vielseitiges und umfangreiches Programm versprechen.

Inmitten der Kurstadt Bad Salzuflen, direkt am Bahngleis, bietet der Bahnhof den perfekten Rahmen für Konzerte, Lesungen, Kabarettaufführungen oder Partys. Bis zu 500 Personen können in den vier separaten Räumlichkeiten LOKation, Bahnhofshalle, Bistro und Wartesaal Platz nehmen und sich in der stimmungsvollen Atmosphäre rundum wohlfühlen und genießen. Moderne Veranstaltungstechnik und ein abwechslungsreiches gastronomischen Angebot erfüllen jeden Wunsch.

Aus ganz Ostwestfalen pilgern zahlreiche Kulturliebhaber und Feierwütige nach Bad Salzuflen, um in dieser Trend-Lokalität grandiose und unvergessliche Momente zu erleben. Machen auch Sie sich auf und lassen Sie sich von Musik, Stimmung und Ambiente im Bahnhof Bad Salzuflen begeistern.