American Recital Series No. 24: A Journey through the Heart of American Folk Music - From the 1920's to Today
Mike Sappington | Guy Palumbo &nbsp
Treibberg 6
90403
Nürnberg
Tickets from €13.00
Concessions available
Event organiser: Deutsch-Amerikanisches Institut - Amerika Haus e. V., Gleißbühlstr. 9, 90402 Nürnberg, Deutschland
Information on concessions
Ermäßigung für Schüler und Studenten, sowie Mitglieder des Fördervereins DAI (Ausweispflicht)
Rollstuhlfahrer und eine Begleitperson erhalten zusammen ein Ticket.
ZAC-Rabatt 20% auf den Normalpreis gegen Vorlage der ZAC-Karte nur im VVK
Event info
Join us as we journey through the history of American Folk music, from the 1920's to today. By leading the audience through the various genres which influenced modern music (such as traditional Irish music and Gospel), listeners are invited on an exploration of the heart and soul of American Folk music. In order to give the listener a deeper appreciation of the music, the songs performed exemplify the various elements which defined those genres, ultimately leading to the development of revolutionary styles of music.

Michael Sappington is an American musician and songwriter who has performed internationally since 2002. Guy Palumbo is an American songwriter from Virigina now raising a family in Nürnberg. Keep an eye out for shows from his concert series, 1001 Acoustic Nights.

Der moderne amerikanische Folk ist seit den 20-er Jahren von diversen Musikgenres (z.B. traditionelle irische Musik oder Gospel) beeinflusst. Heute Abend hören und lauschen sie mit Herz und Seele dieser Musikgeschichte nach, verstehen wie sich verschiedene Elemente verbinden und zu einem modernen neuen Folk entwickelt haben- mitreißend, authentisch und mit Herzblut gespielt.

In Kooperation mit den Nürnberger Nachrichten und dem Museum Tucherschloss.
Location
Tucherschloss Nürnberg
Hirschelgasse 9-11
90403 Nürnberg
Germany
Plan route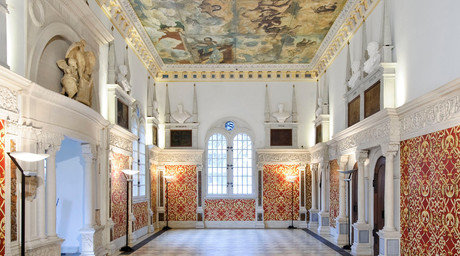 Das Tucherschloss im Nürnberger Stadtteil St. Sebald wurde von 1533 bis 1544 als Stadtschloss der Patrizierfamilie Tucher errichtet und wird heute als Museum genutzt. Hier werden Exponate aus der Geschichte der Familie Tucher ausgestellt. Neben wertvollen Möbeln und Tapisserien und dem familieneigenen in Limoges emailliertes Gießgeschirr werden hier viele weitere faszinierende Stücke ausgestellt. Darunter befindet sich auch ein Porträt von Hans VI. Tucher, gemalt von Michael Wolgemut, Albrecht Dürers Lehrmeister.

Der dreigeschossige Sandsteinbau wurde in den vier Jahrhunderten seit seiner Entstehung mehrfach umgestaltet und in liebevoller Detailarbeit saniert. Bemerkenswert ist der kleine Chor, mit einer Sandsteinbrüstung im ersten Geschoss an dem ein Relief des Sündenfalls angebracht ist, wie auch die Halle im Erdgeschoss mit ihrem spätgotischen Netzrippengewölbe.

Im Jahr 2000 wurde schließlich der Hirsvogelsaal, das Schmuckstück des Schlossgeländes, wieder aufgebaut. Dieser wurde im Zweiten Weltkrieg zerstört. Die Innenausstattung zeichnet sich durch Renaissance-Elemente aus. Ein besonderer Blickfang ist außerdem das Deckengemälde das den "Sturz des Phaeton" darstellt. Die Eingangshalle des Schlosses, sowie der Hirsvogelsaal werden regelmäßig für Konzerte und zahlreiche andere Kulturveranstaltungen genutzt. In einem bestechenden Flair, vor einer atemberaubenden Kulisse, ist ein gelungener Abend garantiert!