Zu Ihrer Sicherheit und der weiteren Eindämmung des Coronavirus finden alle Veranstaltungen unter Einhaltung der aktuellen gesetzlichen Vorschriften statt: Die jeweiligen Veranstalterinnen und Veranstalter tragen Sorge, dass die Hygienemaßnahmen stets überwacht und eingehalten werden.
Weitere Details
ABA NAIA - We Can Do It Moaning
Abba Naia &nbsp
Fidicinstr. 40
10965
Berlin
Tickets from €16.50 *
Concessions available
Event organiser:
English Theatre Berlin, Fidicinstraße 40, 10965 Berlin, Deutschland
Event info
Do you want to know what lies behind the anatomy of our mouths?

ABA NAIA transforms sounds into spoken language. They build their rebellion against the patriarchy with the foundation of human voices. It gets dirty. It gets messy. It gets hilarious. It gets awkward. It gets physical. It gets sexual. It stays complicated. You are invited to a dialogue taking place at the meeting point between science and a new post porn soundscape when the seductive power of female tones takes over and makes things move.
Location
THEATER THIKWA
Fidicinstraße 40
10965 Berlin
Germany
Plan route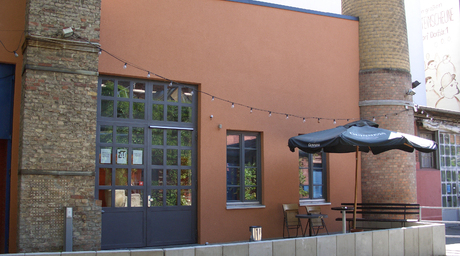 Das F40 in Berlin Kreuzberg ist seit Januar 2006 die gemeinsame Spielstätte des English Theatre Berlin und des Integrationstheaters Theater Thikwa. 90-140 Zuschauer finden vor der großen Bühne Platz. Zusätzlich bietet die Studiobühne eine Kapazität von 50-70 Plätzen.

Zur Berliner freien Szene gehörend, ist das English Theatre Berlin die einzige ausschließlich englischsprachige Bühne der Hauptstadt. Von Klassikern bis zu Neuentdeckungen, aber auch Sprechtheater und Comedy stehen hier auf dem Programm und regen Künstler und Publikum zu einem gemeinsamen Gespräch über einander und die Welt in der wir leben an. Daneben werden die Inszenierungen des Theater Thikwa von Schauspielern mit und ohne Behinderungen gemeinsam erarbeitet und auf die Bühne gebracht. Es sollen dabei nicht nur die Unterschiedlichkeiten, sondern vor allem auch die Gemeinsamkeiten der teilnehmenden Künstler zum Ausdruck gebracht werden. Auf experimentelle Weise werden die Bereiche Schauspiel, Performance, Musik, Sprache und Tanz auf ihre Abgrenzungen hin untersucht.

Zwei auf den ersten Blick völlig unterschiedliche Theater arbeiten im F40 erfolgreich unter einem Dach und locken sowohl die Liebhaber der englischen Bühne, wie auch in sozialer Hinsicht Experimentierfreudige in ihre gemeinsamen Hallen.
Hygienekonzept
Corona Regulations
This is a 3G event. To attend the performance, you must wear an FFP2 mask and present a negative antigen quick test for COVID-19 that is not older than 24 hours or proof of your complete vaccination or recovery from COVID-19. Please book a test date in advance from an official test center, e.g. www.test-to-go-berlin. Please observe our health and safety measures.