A Better Life - German Premiere
Fidicinstr. 40
10965
Berlin
Tickets from €16.50
Concessions available
Event organiser: English Theatre Berlin, Fidicinstraße 40, 10965 Berlin, Deutschland
Event info
If you want a better life you must live a better life.

In the Bulgarian/German co-production A Better Life, the three choreographers and performers Iva Sveshtarova, Willy Prager and Martin Stiefermann ask what a better life can be like, what we do to achieve it and explore the topic of constant mobility and inconstancy.

The performance deals with the question what a better life can mean and what we do to achieve it.
In European society, moving and being mobile is not only important, but also easier than it was ever before. This gives all European citizens the opportunity to move to a new place if they feel like there can be better options, better living circumstances or sometimes just better weather. We, as individuals, are all responsible to ourselves to live a life that we think is fulfilled and worth living. What would we give up to raise our standards? Are we ready to trade social capital for material capital? What does a good life mean to us and what does even a better life mean to us?
Location
F40 Berlin
Fidicinstraße 40
10965 Berlin
Germany
Plan route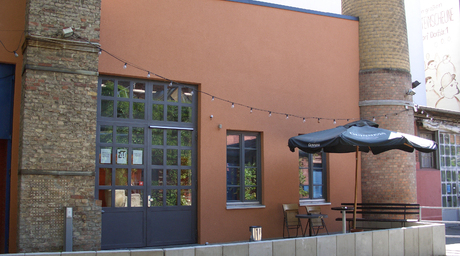 Das F40 in Berlin Kreuzberg ist seit Januar 2006 die gemeinsame Spielstätte des English Theatre Berlin und des Integrationstheaters Theater Thikwa. 90-140 Zuschauer finden vor der großen Bühne Platz. Zusätzlich bietet die Studiobühne eine Kapazität von 50-70 Plätzen.

Zur Berliner freien Szene gehörend, ist das English Theatre Berlin die einzige ausschließlich englischsprachige Bühne der Hauptstadt. Von Klassikern bis zu Neuentdeckungen, aber auch Sprechtheater und Comedy stehen hier auf dem Programm und regen Künstler und Publikum zu einem gemeinsamen Gespräch über einander und die Welt in der wir leben an. Daneben werden die Inszenierungen des Theater Thikwa von Schauspielern mit und ohne Behinderungen gemeinsam erarbeitet und auf die Bühne gebracht. Es sollen dabei nicht nur die Unterschiedlichkeiten, sondern vor allem auch die Gemeinsamkeiten der teilnehmenden Künstler zum Ausdruck gebracht werden. Auf experimentelle Weise werden die Bereiche Schauspiel, Performance, Musik, Sprache und Tanz auf ihre Abgrenzungen hin untersucht.

Zwei auf den ersten Blick völlig unterschiedliche Theater arbeiten im F40 erfolgreich unter einem Dach und locken sowohl die Liebhaber der englischen Bühne, wie auch in sozialer Hinsicht Experimentierfreudige in ihre gemeinsamen Hallen.