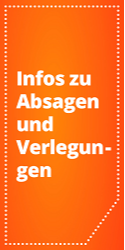 Veranstaltungsort
Baldenauhalle Morbach
Unfortunately, no other dates are available at the moment.
Baldenauhalle Morbach
Als moderner Veranstaltungsort für diverse Sport- und Kulturevents ist die Baldenauhalle Morbach nicht mehr aus dem Kulturkalender der Stadt wegzudenken. Stars wie Scooter, Paul Kuhn, Dieter Nuhr, Nena, Die Fantastischen Vier, The Ten Tenors oder Manfred Manns Earth Band waren hier schon zu Gast.

Die Baldenauhalle Morbach ist auch für Tagungen, Messen und Ausstellungen mehr als geeignet. Insgesamt verfügt die Halle über Räumlichkeiten von mehr als 2.000 m² Fläche. Eine integrierte Bühne, modernste Technik und das angenehme Foyer runden das Angebot gekonnt ab. Sie möchten eine private Feier ausrichten? Auch kein Problem, denn die gut ausgestattete Küche kann ebenfalls genutzt werden.

Sie finden die Baldenauhalle am nördlichen Rand von Morbach. Parkmöglichkeiten stehen vor Ort und in der Umgebung in ausreichender Anzahl zur Verfügung. Des Weiteren lässt sich der Ort über eine Buslinie ansteuern.