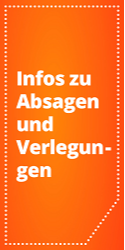 Veranstaltungsort
Interkulturelle Bühne
Unfortunately, no other dates are available at the moment.
Interkulturelle Bühne
Die Interkulturelle Bühne in Frankfurt am Main schafft Begegnungsmöglichkeiten, die kulturelle Grenzen hinter sich lassen. Ein vielseitiger Spielplan aus den Bereichen Schauspiel, Tanz, Kleinkunst, Kabarett und mehr sowie engagierte Projektarbeiten rücken kulturelle Vielfalt und Netzwerke in den Mittelpunkt.

1995 wurde die Interkulturelle Bühne ins Leben gerufen. Das Ziel war es, den kulturellen Austausch zwischen Menschen unterschiedlichster Herkunft, Lebensweise oder Weltanschauungen zu ermöglichen. Nur so kann eine Basis für ein friedliches, respektvolles Zusammenleben geschafft werden. Die Aufgabe der Interkulturellen Bühne ist es, zu reagieren, agieren und Zeichen zu setzen. Deshalb erschuf man das Kulturfestival "days of respect", das seit 2006 jährlich stattfindet.

Am einfachsten ist die Interkulturelle Bühne mit dem öffentlichen Personennahverkehr zu erreichen. U-Bahn-, Straßenbahn- und Bushaltestellen sind in Bornheim Mitte ein paar Gehminuten entfernt. Parkmöglichkeiten müssen in der Umgebung gesucht werden.