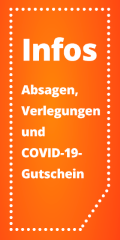 L.A. Cham
Welcome to the United States of America… also fast! Das L.A. Cham steht ganz klar für alles, was so ganz typisch amerikanisch ist. Hier gibt es den größten (und vermutlich auch besten) Burger von Cham, Poster der besten Football- und Baseballteams hängen an den Wänden und wie das in amerikanischen Pubs und Bars so ist, finden hier natürlich auch immer wieder Live Acts statt. Das L.A. Cham ist also nicht nur eine Gaststätte, sondern eine Event Location mit dem ganz besonderen Flair. Really!

In der Event-Halle des L.A. in Cham finden bei Konzerten bis zu 400 Zuhörer Platz. Zusammen wird dann gerockt, geswingt und gelacht. Denn das Angebot reicht hier von Metal und Hardcore über Pop, Country und Blues bis hin zu Comedy.

Lust auf einen kleinen Roadtrip? Dann macht euch auf den Weg ins L.A. Cham und lebt ein bisschen den American Way of Life. Gleich in der Nähe des Schwimmbads und unweit vom Regen befindet sich das Live Style Café. Einen großen Parkplatz gibt es direkt vor Ort und steht allen Gästen zur Verfügung. Die Crew freut sich auf euch!